It often comes as a shock when a teen becomes pregnant. Teen parents want the best for their children, they do their best when they are surrounded by supportive whānau, peers and the communities in which they live. When the reality sets in we need to support teen parents to ensure better outcomes for themselves and their pepe. Young parents face a myriad of challenges including a disruption to their education, reduced earning potential, being emotionally unprepared for parenting, judgement from parents and family, societal stigma, lack of financial security, housing accessibility and support from their partners or whānau. Teen pregnancy is an issue for the entire community.
Housing is a significant need and sourcing emergency housing in times of trouble is one of the top issues for teen parents. Many teen parents are homeless, living in temporary and precarious situations, couch surfing or in overcrowded homes. They need to figure out what the next best option is for themselves and their baby.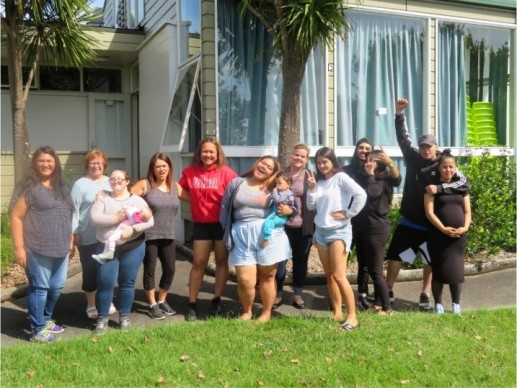 Thrive is there to step in and offer extensive non-judgmental support and culturally appropriate services. Approx. 80% of Thrives' clients are Maori and vulnerable and face racism when trying to access housing. Clients say that it's a trusted reliable place to go talk, unburden and problem solve together.
"I was living house-to-house when I was pregnant. I wasn't stable. Thrive got me this house. It made such a difference".
Thrive is a highly valued service, and makes a significant impact to the lives and experiences of teen parents. Confident parenting comes from improved well-being and living situations, self-belief and a positive outlook, maturity, confidence and independence. Having a happy, safe and healthy home is key to their success by standing and an important benchmarks for teen parents.
Ten years ago NZ had one of the highest rates of teenage births of the high-income countries in the OECD. Today the number of teen births is on a downward trend, but socially disadvantaged vulnerable teens are still more likely to give birth as teenagers. As a community we need to come together to ensure they have adequate housing.
What Are The Options?
Emergency Housing: emergency accommodation provided by Work and Income i.e. motels. Provided for up to 7 days, can be renewed each week. Clients pay a minimal amount towards the cost of this.
Transitional Housing: MDS contract in which accommodation is provided by an NGO with wrap around support. The client pays 25% of their income as rent. Usually provided for 12 weeks, although that can be extended. NGOs provide a range of standalone houses, complexes and/or communal housing.
Public Housing: long-term housing provided by an NGO or HNZ for below market rent i.e. Vision West and Monte Cecilia community housing.
Housing First: secure tenancies provided for at least on year with wrap around support. Provided for people who have been homeless for more than 12 months in the last 3 years. Must contact Housing First providers to apply, see https://housingfirst.co.nz/
Who Is Eligible?
For emergency housing:
Any citizen/person with 2 years residency who has a genuine need for housing is eligible for emergency housing. That means Work and Income cannot decline to provide options for you. There is NO income limit to this provision. A genuine need for housing includes:
Someone who has no shelter
Living in a car, garage, motel or overcrowded situation
Needing to leave an abusive situation where no refuges available
About to be homeless i.e. tenancy ending in 7 days.
For transitional housing:
Eligibility differs depending on the provider's criteria. For a list of Auckland Transitional Housing providers and their contact details, please visit https://www.housingconnections.nz/.
Note: For parents and children on a work visa under the Domestic Violence Act, transitional housing options may be available.
How Can Thrive Help To Make A Positive Difference?
A landlord fixing a moldy and damp home after Thrive stepped in and following the teen having been previously unable to get action from the landlord.
Thrive supporting a teen mum to remain in the Housing New Zealand home when she had lived with her mother until she passed away, and despite prior advice that this was not necessarily a possibility.
Sourcing emergency housing in the case of homelessness
Supporting teens living in overcrowded housing and to alleviate the associated stresses and tensions impacting on stability and parenting.
Transportation and accompaniment to appointments with Work and Income, Housing New Zealand, Oranga Tamariki, and Family Group Conferences in addition to other wrap around services.
If you or someone you know lives in Central or West Auckland and is in need of Thrives services, please fill out the online referral form: http://www.thrive.org.nz/referrals/. Thrive accepts self-referrals and referrals from social workers and the community.
Sources:
Ryan, Sharon, 2019. Accessing Emergency and Transitional Housing: A Guide for Auckland. Salvation Army Waitakere Transitional Housing. For any inquires contact Sharon on 021 731 394.
Thrive. 2018 Understanding Thrive's Service Provision from the Perspective and Experiences of Teen Parents.
Useful Links:
https://emergeaotearoa.org.nz/
https://www.housingconnections.nz/
https://www.housingfirst.co.nz/
https://www.orangatamariki.govt.nz/
https://www.workandincome.govt.nz/eligibility/living-expenses/housing.html