Is anyone ever free from the fear of violence?
We know that all children in Aotearoa NZ deserve to grow up feeling loved and free from fear and violence.
When Family Court orders the uplift of a child on the grounds that their parents and family have a background of domestic violence and drug use, cited drug use, lack of parenting skills, and transient home environments, it's traumatic for everyone involved. The stigmatization of teenage parents because of their age worsens their experience, and ultimately, the wellbeing of their children. Children feel more insecure and confused after separation. All too often blaming teen mums and teen dads for not handling things at home, results in the shifting of children to state care. For many these vulnerable children there seems to be a lot of adults who can take advantage or enjoy power over them. Child protection reforms and the system that is supposed to protect our most vulnerable children and young people is woefully broken. Sadly, many are also abused and made to feel ashamed of who they are. They live in fear and uncertainty. Our young parents and their children can lose the stability of a home, their language, and a connection to their whakapapa.
It is not surprising that community based organizations welcome the governments biggest-ever investment in family and sexual violence and support services. The $320 million package is aimed at prevention and responding to family and sexual violence. There is increased investment in prevention for community-led approaches focussing on action in the early years for children and youth. But how far will it go to address intergenerational trauma and disempowerment caused by colonization, systemic oppression and marginalization as part of the lives of Māori women and girls? What about the situation for Pasifika or migrants and refugees who become isolated in NZ communities?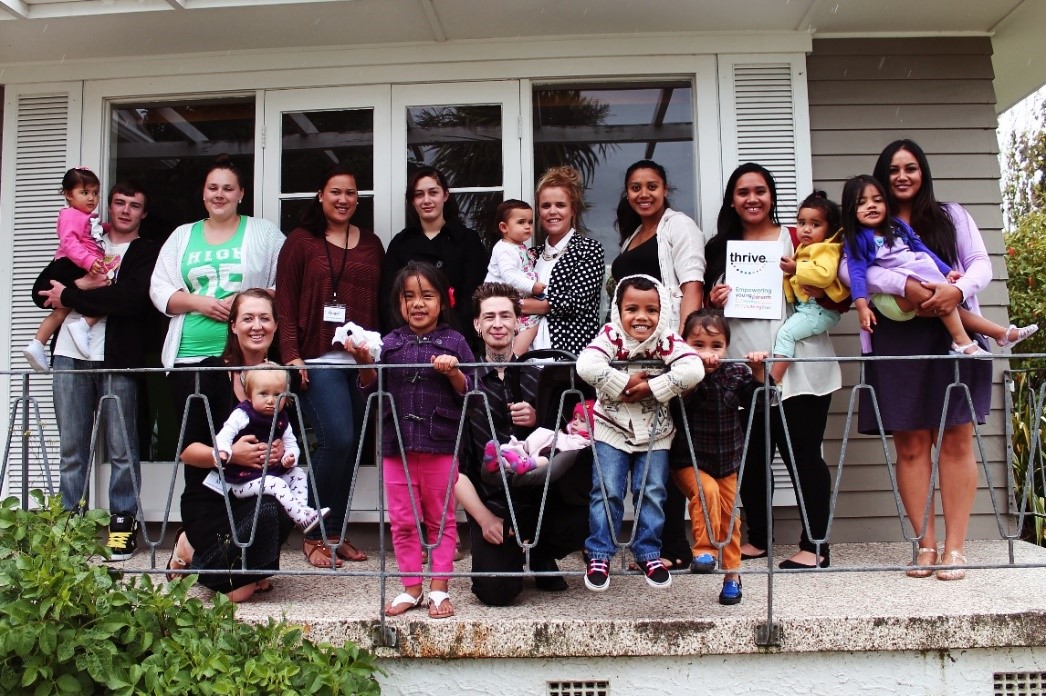 Social workers know all too well that violence often increases during pregnancy. Using abusive tactics, the perpetrator of violence may see the baby as a threat to their power over young mums. Having a baby puts more pressure on, it's harder to leave. Working on one's confidence, learning about respect, child care and healthy relationships doesn't just happen without culturally appropriate interventions. That's why Thrive is working with a teen mum's advisory group to identify risks and effective interventions for sexual and family violence called the Te Kotahitanga o Nga Tangata project with WAVES Trust. Thrive provides extensive support to teen parents who experience key challenges detrimentally impacting their wellbeing and who have lacked the support needed in difficult situations.
"Thrive helped me build a positive relationship with my ex as he is the father of my child and we needed to keep that relationship going" "[The social worker] smoothed things with my mum who was shocked at my pregnancy, me being a teen." - Thrive 2018
When young mums and their babies are threatened we also have to consider that whānau can be both a protective and risk factor for family violence. Solutions that support and strengthen whakapapa can be effective. But how can grievances be urgently addressed given that families may try to hide the violence or accept it as normal?
If you come from a Māori background — you're already stigmatised as being broken, and non-believable as a result of colonization and racist decision making. We have to start getting honest about institutional racism if we're ever going to improve the outcomes for children and their families. We have to believe the stories of survivors.
Community organisations like Thrive take to heart Māori models like the whare tapa whā model, Māori methods of healing, bring together and reconnect hapū. They encourage young mums and young dads to take responsibility for their own whānau and reach out to whānau who can be amazing agents of support. The organisation prides itself on having the following values:   
Manaakitanga - Hospitality, kindness, generosity, support - the process of showing respect, generosity and care for others.
Aroha - To love, feel concern for, feel compassion, empathise.
Pono - To be true, valid, honest, genuine, sincere.
Tika - To be correct, true, upright, right, just, fair, accurate, appropriate, lawful, proper, valid.
Whanaungatanga - Relationships, kinship, sense of family connection - a relationship through shared experiences and working together which provides people with a sense of belonging. - Thrive 2019
There is no doubt that there needs to be a greater focus on prevention within families, the community and society. The shame and fear about the violence in their lives can be overwhelming. Thrive builds trusting relationship with our clients. It's hard to admit what's happening. But with positive cultural identity, freedom of choice and independence - young mums and young dads can feel empowered to decide if they feel safe enough to stay or leave. Supportive factors like education and employment are not protective factors (Ministry of women 2015). Healthy relationships are.
"I felt safe and trusted what I was being told. Confidential. I felt listened to. The right questions were being asked. She asked me about my feelings. This gave me a sense of relief. She talked about what other people have done in similar situations. She outlines the negative and positive of different options. I was helped to create a plan based on likely outcomes and the steps that needed taking. The plan has given me a brighter side to look at things and the ability to make decisions on what to do next. I've gone from feeling helpless, lacking knowledge, to being able to decide if, what action to take." - Thrive 2018
A teen mum like many women will stay in precarious situations to keep their family together, for fear of managing alone, fear that the violence will get worse if they leave, lack of money, love of the person or in the hope that the violence will stop (Women's refuge 2018) among other reasons. Thrive encourages young mums to build their confidence in themselves, their relationship and community. They learn strategies in becoming a better and stronger parents. Caring social workers and staff believe in the power of young women to share knowledge of support and advocacy with one another as a means of gaining strength, resiliency and building community.
Sources:
Government of NZ. Wellbeing Budget 2019 Family Violence and Sexual Violence Package. Breaking the cycle of family and sexual violence.
Ministry of Women. 2015. Wahine Maori, Whaine Ora, Wahine Kaha: preventing Violence against Maori Women.
Thrive. 2019. Who we are. Our Values.
Thrive. 2018 Understanding Thrive's Service Provision from the Perspective and Experiences of Teen Parents.
Women's Refuge. 2018. Fresh Start. A practical Guide for Women Wanting to be Free from Abuse. 6th Edition.
Links:
by Natalie C.